up
7.8. KEY FINDINGS: Consultation with young people
The results below are a summary of the questionnaires completed by 50 young people in Crowborough.
Do you go to a Youth Club or any kind of youth group or activity outside of school time?
Yes:55%
No: 45%
Do you use the information shop?
Yes:98%
No: 2%
What improvements would you like to see made to local parks and recreation grounds?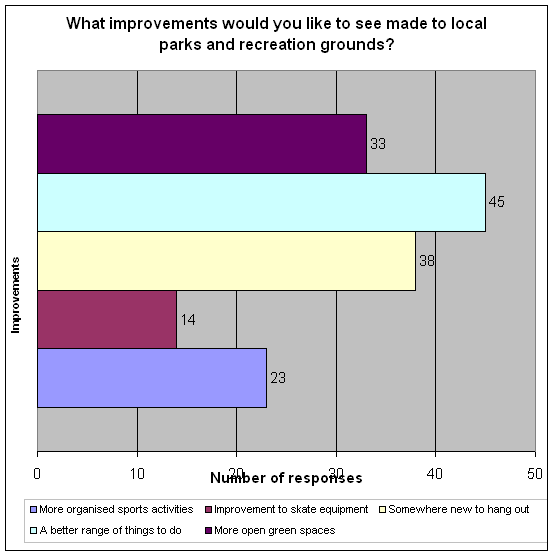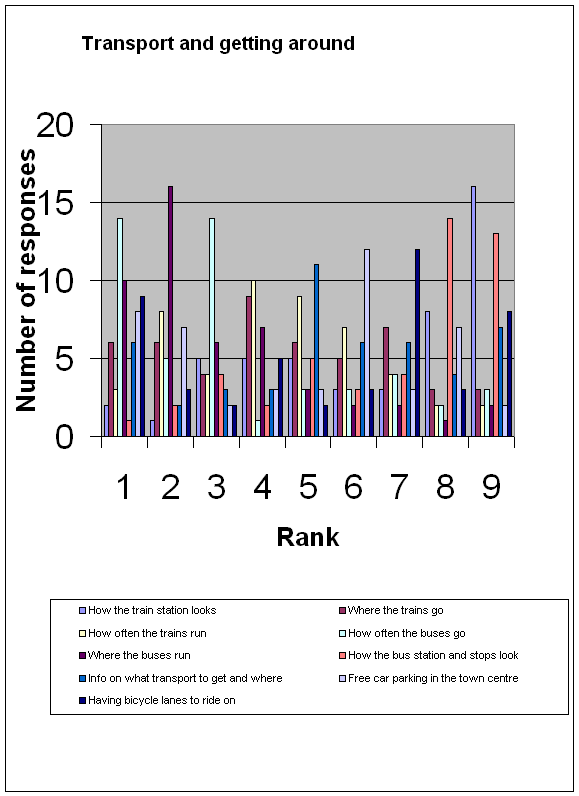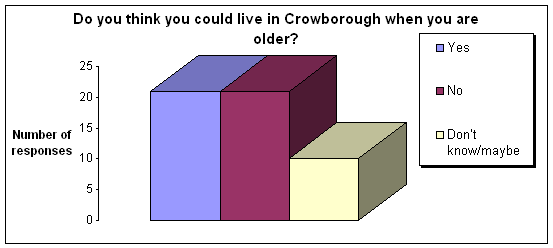 Environment - Put a number by the following issues in the order you think most important - 1 as most important to 4 as least important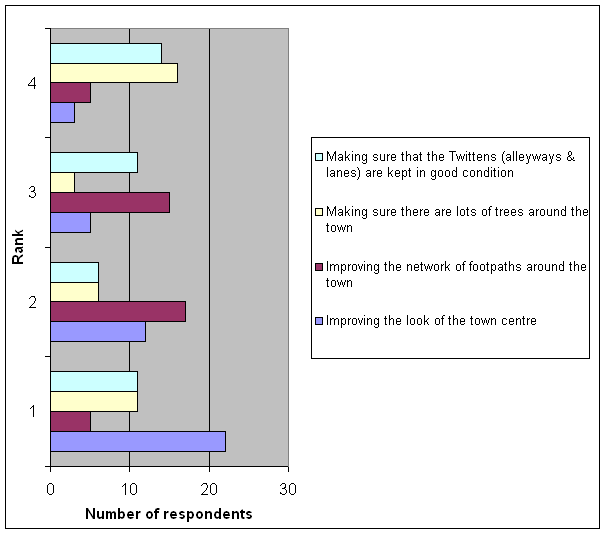 Improving the look of the town centre was seen as the most important environmental issue for young people with 22 selecting it as the highest priority. Making sure there are lots of tress around the town and that the Twittens are kept in good condition were both considered as the highest priority by 11 respondents each.
Improving the network of footpaths around the town received the most selections as the second highest priority (17) and third highest priority (15).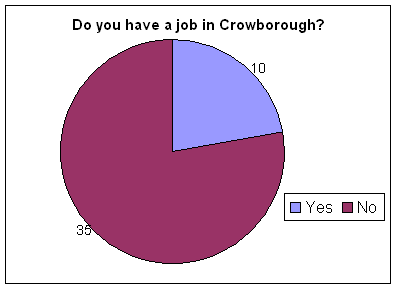 Do you think it is easy to get a job in or near Crowborough?
When asked whether it was easy to get a job in or near Crowborough 45% stated that it was not, 30% thought it was and 25% were unsure.
Do you think you will be living in Crowborough when you are 20?
57% of respondents do not consider that they will be living in Crowborough when they are 20, 27% consider that they will be and 16% are unsure.
Please note that the comments below come from consultation exercises undertaken with the Scouts and the youth council. Those in italic represent the Scouts and those not in italic represent the youth council
I like Crowborough because…
You don't have to go far to be somewhere pretty
Crowborough hospital – maternity wing
All Saints Youth Group
Guides/Scouts/Cadets
Carnival &fair
Fireworks
Information Shop (which may die )
Wolfe Rec
Feel safe all the time
Not really busy
Carnival & fairs
Woods Beacon
Town centre
Football club
Goldsmith swimming pool
Scouts
Crowborough now is…
No where to go
Safe in the day
No shops – clothes for our age
Not as good as Tunbridge Wells
Too many smokers
Boring
Crowborough is…
Boring sometimes – no cinema (closed down)
Fun! – things to do, not too busy
Organised events- fireworks
Busy & Quiet – depends where
Dirty – chewing gum everywhere
Full of potholes
I feel least safe in Crowborough in…
Folward Road
Luxford Lane
Alderbrook & Jarvis Brook (because of young people)
Poundfield footpath
Skate park
Montagis Way Estate/Blackness Lane
Old Lane
Steel cross towards Green Lane
I feel least safe in…
Poundfield Path (next to school)
Buses
Sometimes skate park at night
Newsagents next to school
Alleyways
Wolfe Rec at Night (football pitch – chavs)
I feel least safe in…
Jarvis Brook
Alderbrook (worst)
Alleyways
Wolfe Rec
The Cross, White Hart
When I'm with my friends I feel most safe in…
My House
Forest
Gilridge Green
My close Norborry
Beacon
Beacon Woods
Goldsmiths
Coopers Lane
Golf course
Trouble is caused by young people in Crowborough because…
There's nothing to do – very limited youth clubs
Bullying
Any available activities are expensive and limited
Trapped – limited transport
Negative press
Nothing to do
Got the blame so do it anyway
Peer pressure
Negative stereotypes – makes young people angry L
What would make you feel safer?
Police & anti-social behaviour monitoring
Police presence
Council that listens to young people
Not being followed around
Crowborough fair
Young person/adult split
Police effort to disperse groups
Increase in community spirit
Police politeness
More lighting – Luxford Lane, Folward Road, Jb Park, Ole Lane pavements
I wish there was somewhere I could…
Camping sites
Bowlplex
Cinema
Eat Sushi
Tennis courts for young people
More skate parks for younger people (more ramps)
Nature reserves – fishing, bird watching
Arcade
I wish there was a … in Crowborough
Safe pub
Youth nightclub
Pool club for teenagers
Cinema
HMV or music shop
Bowling
Swimming pool – slides/hot tubs
Shopping mall
Fast food place (No McDonalds)
Crowborough should have…
Police presence
Bins
A cinema
Internet café
Cross bar on goals
Better shops: H&M, HMV, KFC
Non-local pub
BMX track
Info shop funding
Cheaper public transport
Community facility – fun activities, safe/monitored if possible, age groups, drama, Crowborough team, funding for youth stuff
Crowborough in 3 years should be…
More buses
Shopping mall
More bus stops that are nice
Less dirty
Smooth roads
More public facilities
Benches
Less boring
More shops
What is wanted?
| Ideas | Numbers |
| --- | --- |
| Increased range of shops to meet young people's needs | 6 |
| Improvements to swimming opportunities | 2 |
| Cycle lanes | 5 |
| Improvements to skate park | 5 |
| Pubs/clubs for young people | 5 |
| Fast food | 2 |
| Bowling complex (ten pin) | 5 |
| Increased police presence | 3 |
| Fishing | 2 |
| Youth clubs | 3 |
| Internet cafes | 2 |
Other comments included:
Gym for 13 year olds, Quad biking place, Paint balling – cheap place, Laserquest, Non paying toilets, More stuff to do at night, Big park – with trees, More zoos near Crowborough, Nearer beach, Bingo, Larger library, Leisure complex, Arcade, Restaurants, Bike hire, More parking at Wolfe Rec, Camping sites, Ventilation at Scout hut, Footpath, Expand park, More community police, More fields to play in, Football goals, Games workshop, Activity centre, Fishing, Pelican crossings, Community Centre, Art, Lake – boating, Better lighting on Wolfe rec, Better fences, Park for older people, Seatbelts in buses, Pool/snooker for young people, Free bus passes for young people, Bigger green, Goals
There were a wide range of ideas suggested by the young people who took part in consultation at the Scouts and the youth council. When grouped an increased range of shops to meet the needs of young people was mentioned the most time (6) with cycle lanes, improvements to skate park, more pubs/clubs for young people and a bowling complex all the receiving 5 mentions.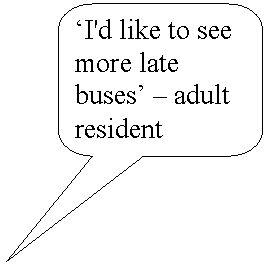 up

© The Crowborough Partnership