Crowborough Healthcheck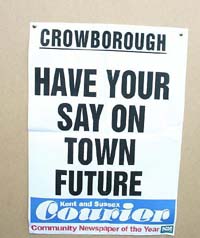 Here you will find answers to what Crowborough's Healthcheck is, who is undertaking it, why it is being done, and what will happen at the end of it.
The Healthcheck Questionnaire cannot be completed online. However you can download it to print (see below). Completed questionnaires can be posted (see questionnaire for address) or returned at the Crowborough Summer Fair, Wealden DC offices, Crowborough Town Hall, Crowborough Library, Safeway,Waitrose, Roan Cards and Jarvis Brook Bakery. Click on the following links to download these documents:
Run a Business in Crowborough? Your views are important to us. Please complete the Business Survey.
What is a Healthcheck?
The Healthcheck and Action Plan have been developed by the Countryside Agency, a government department, and are in use all over the country.  The aim is to carry out research into the vitality of market towns throughout the country and to suggest ways that those market towns can improve for the benefit of residents, businesses and visitors, both within the town and the surrounding rural area.
How is a Healthcheck Carried out?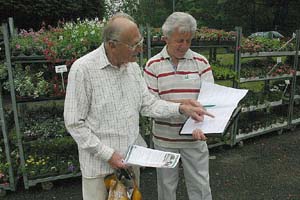 It starts with a factual Snapshot of the town and continues with worksheets covering four main topic areas:
Environment
Economy
Social and community issues
Transport and accessibility
Community Consultation is also undertaken - including hard-to-reach groups and the surrounding hinterland.  Everybody has a stake in the future of their town therefore it is important that they have an input.
The research results are drawn together in a summary of key issues and a vision for the town and surrounding
countryside. This provides the basis for a town action plan which highlights ways the town can improve how it serves its community, surrounding villages and visitors.
What are the Benefits of a Healthcheck?
Healthchecks and Action plans based in this format are seen by agencies such as South East Economic Development Agency (SEEDA) as a necessary precursor to bids for funding and support, as they are meant to express both the communities' needs and their aspirations.  There is more likelihood of a successful bid for grant funding if a heathcheck has been carried out.
The healthcheck will also identify and prioritise projects which will improve the vitality of Crowborough.
But Crowbrough is Already a Vibrant and Healthy Community
Although Crowborough is a relatively vibrant town, it still has its fair share of problems, and there is a need to ensure it remains vibrant in the future.  The healthcheck will not only identify current problems, and possible solutions but it will also identify areas that could become a problem in the future if action is not considered now.
Who is Undertaking the Health Check?
The Healthcheck is being carried out by Crowborough Partnership who have appointed Action in Rural Sussex to assist with the organisation.
Who is paying for the Health Check?
A lot of the work is being carried out by volunteers whether they are involved in local community groups, or local councillors.  Wealden District and East Sussex County Councils have provided grant funding to enable the appointment of Action in Rural Sussex.  Crowborough Town Council have offered administrative and marketing support.
Where can I find out more?
The following sections will give more details of the Healthcheck process, and as the Healthcheck proceeds the information on these pages will be updated: -
Timetable
Initial Snapshot
Community Consultation
Key Issues
Action Points