Sir Arthur Conan Doyle
22nd May 1859 to 7th July 1930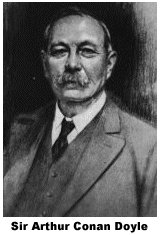 On 18th September 1907 Sir Arthur married Miss Jean Leckie at St. Margaret's Church, Westminster, London. Soon after this they moved into Windlesham on the outskirts of Crowborough in East Sussex. The house had been extended by some 50% entirely around Sir Arthur's specification.
Three children were born and educated in Crowborough, Denis Percy Stewart (1909), Malcolm Adrian (1910) and Lena Jean Annette (1912).
In 1914 at the outbreak of World War One, Sir Arthur formed a local home guard unit; this was later replaced by an official body in which he served as a private.
A list of his achievements, far too long to give in full, is astounding. He invented the naval life jacket, persuaded the army to adopt the steel helmet and before WWI, warned in vain of the menace of U-boats. When he died, one of his greatest contemporaries, Sir Winston Churchill, said of him - "I had great admiration for him. Of course I read every Sherlock Holmes story, but the works I liked even more than the detective stories were the great historical novels which, like Sherlock Holmes, have certainly found a permanent place in English literature".
As the creator of Sherlock Holmes, Sir Arthur is best remembered. In truth he also wrote many poems, historical, novels, science fiction adventures and war histories. He was a sportsman extraordinary, indulging in most sports and doing well. Perhaps it is best to mention the only sport he did not appear to have attempted was tennis.
Sir Arthur Conan Doyle died at his Crowborough home, Windlesham, in East Sussex, at 8.17 am on July 7th 1930. On July 11th, a fine and sunny day, he was buried in the grounds of Windlesham, just beside his garden hut, which was erected for him as a writing room. Over 200 friends, colleagues, local people, staff and family attended the ceremony. Wreaths were spread in the large paddock to the west of the grounds, making over an acre of flowered coverage from all around the world. Lady Jean Conan Doyle continued to live at Windlesham until her death on 27th June 1940, she was buried at Windlesham in the plot next to Sir Arthur.
In 1955 the last of the Crowborough estate grounds were sold out of the family. The remains of Sir Arthur and his wife lady Jean Conan Doyle, were removed and reburied at All Saints Church, Minstead in the New Forest, Hampshire, where they rest to this day.
Text © Brian W. Pugh
Further Information on Conan Doyle is available from The Conan Doyle (Crowborough) Establishment.