up
7.4. KEY FINDINGS: The Healthcheck Worksheets
The following summary is organised under the four Healthcheck headings as described earlier. It is based on the completed worksheets plus the early consultations within the town. It was used to identify the key issues that were then part of the wider public consultation and additional survey work and questionnaires.
i) Economy
The town is part of a relatively prosperous area with low unemployment. It is within commuting range of London, the Gatwick area, Tunbridge Wells and the south coast. It also has its own employers and industrial estates that provide some local employment. These businesses also attract people into the town from surrounding areas to offset against the out-commuting. The two biggest employers are. Beacon Community College and the District Council that has its main offices in the town.
The town itself provides a wide range of services and shops within the town centre but is currently going through a period of uncertainty and change as proposed supermarket developments are discussed and ultimately developed. These are on key sites close to the existing centre and will have an impact on established shops and services. The current town centre suffers from being offset from the main routes through the town and because it largely consists of older buildings that are inflexible in terms of modern shopping requirements. With the introduction of two new supermarkets there are both opportunity and threats for the existing town centre and Crowborough town centre services will certainly change over the next few years.
Employment
Unemployment is relatively low in Crowborough and has been for many years. This reflects both the buoyancy of the town's employment market hitherto and the relative ease of access to other employment centres such as Gatwick and Crawley area, London and the South Coast and Tunbridge Wells.
There is a net out-commuting pattern in Crowborough with over half of those employed (about 10,000) commuting elsewhere to work. Another 2,600 travelled into Crowborough to work.
19% of the economically active are self employed and there is anecdotal evidence that the number of home based businesses and home based working has increased over the last few years. People have moved to the area because of its environment and surroundings and are able to work from home because of technological developments and change in business practices.
The top three sectors for employment recorded in the 2001 census are
1. Wholesale and retail trade, repair of motor vehicles – 17.4%
2. Real estate, business activities, public administration and defence – 14.2%
3. Health and Social Work – 11.5%
The potential losses in the retail sector, albeit temporary with the closure of Morrisons, could well impact on both the totals and the percentages.
According to the statistics there have been decreases in employment in manufacturing, and banking and increases in construction, public administration, distribution and hotels and restaurant trades. These are broadly in line with regional and national trends.
Overall Crowborough has a healthy and broad pattern of employment with no over reliance on one sector or one industry. Employment continues to expand and unemployment remains low.
There is evidence within the local economy over the last 12 months that the local retail and service sector industry is maintaining its presence and position, new businesses continue to be attracted to Crowborough, there are few empty shops or town centre premises. This could well change in the next 12 months with the temporary closure of one supermarket and with the redevelopment of sites in the town centre. Crowborough has experienced this kind of upheaval in the recent past and is aware that it can have a real impact on local businesses and on the number of people using the town centre. The changes will have to be carefully and sensitively managed. There is also a need for businesses to support each other more and to promote themselves internally and to the population of Crowborough.
Surveys of local businesses undertaken in recent years have highlighted the potential for growth and expansion and some evidence that firms are willing and able to do this within Crowborough. However there are also some examples of firms that have moved out of the town in favour of better provision in nearby towns. The need to have an adequate range of premises within the town to allow for growth and development of existing firms has been identified by the surveys. This includes micro business premises for hitherto home-based operations as well as larger industrial building and offices.
Many businesses have recruitment and retention issues caused by some extent by competition from nearby towns and employment centres, particularly Gatwick, Crawley and Tunbridge Wells.
Although the average household income in Crowborough is above the regional and national averages, in 2004 some 18% of local households had an income of less that 60% of the national median income. It is with this particular section of the population that the issues of affordability and ability to remain living in such a high cost area are most prevalent.
Business Support
There is access to business support available for Crowborough businesses both from the publicly funded Eastbourne and District Enterprise Agency (EDEAL) and through the local branches of national banks. Survey evidence shows that only some businesses are aware of the 10 support organisations known to be active in the area. As from 2002, the 400 or so businesses with premises in and around Crowborough have received regular newsletters from the Crowborough Business Group consulting them about their needs,issues and priorities. More recently, over 130 local business people have had regular communication via e-mails about a wide range of business related information supplemented by notification of various events.
The current review has highlighted the need to focus on developing local business networking and support services particularly to the smaller businesses that seem to be growing in numbers.
The Crowborough Partnership and in particular its Business Group have been established since 1997 to provide a local network for businesses and to encourage joint activities. A lack of funding and changes in personnel in the last year has reduced the activities of the Business Group. A number of organisations have offered and will be offering further support to local businesses, namely the Beacon Community College, EDEAL, Sussex Enterprise, Wealden District Council, Plumpton College and ESCC Trading Standards.
A database of over 800 companies in the TN6 postcode area has been established but additional resources are needed to achieve the potential this offers by way of providing additional business support, networking and local sourcing.
Training and Education
There is evidence from the East Sussex Childcare Information Service (KITES) that there is a need for more day care service in Crowborough, particularly for younger children. Provision is likely to be developed on school sites and discussions are going to take place over the coming year. The main barriers to overcome in the area are finding suitable venues and attracting experienced and qualified staff. There is a very high take up of existing preschool places in the town and the surrounding villages.
The existing gap on the provision of vocational courses is being addressed within the area with the development of a Vocational training centre at Uckfield. This will help to fill the gap that has already been identified in the area.
The last Ofsted inspection for Beacon Community College described the school as 'good'. The school also carries specialist status for Sports and Science. The school has a wide catchment area, drawing from as far away as Heathfield and Hastings. Crowborough also has a significant number of children attending schools elsewhere in both the public and private sectors and at both primary and secondary levels.
Beacon Community College runs an Adult Learning Programme in the term time evenings and some daytime courses are open to adults. West Kent College IT courses are full as are many of the Adult Learning sessions at Beacon Community College.
Learning and Skills Development
Crowborough has a wide-ranging and buoyant local economy that is not over dependent on any one sector or employer. Over the last few years Crowborough Town Centre has maintained its role as a service and retail centre and the arrival of more supermarkets in the near future will enhance the employment potential there.
A recent business survey that had a 24% response rate indicated that a majority of businesses provide their own in house training for staff with over 53% stating that no external organisation provided training for staff. 66% stated that they had no specified training budget. Two thirds stated that they had no problem in recruiting skilled staff and 75% stated no problem in recruiting unskilled staff. 80% stated that they did provide in house training. It is unlikely that much of this involves accreditation.
Although Crowborough is not an area of economic deprivation there are issues due to its rural characteristics and poor communications links that can affect access to training and development for all ages of the population.
The provision of the local Vocational Training Centre in Uckfield but serving the wider rural area will fulfil an expressed need in the area. The 14 – 19 education provision as well as adult learning and employers' skills needs are seen as key priorities for the area. The low level of accredited training within businesses in Sussex is also a priority for many agencies. The data from the Crowborough business survey backs up the countywide information about the lack of or absence of employee training in the County. The East Sussex report identifies specifically the need for vocational training for the vehicle repair, construction, and development of key skills especially in 16 –19 age groups. The main training facilities within the town would currently be located at the Beacon Community College and this could be an issue for some businesses who might not feel that it is an appropriate business venue. Currently there is little or no analysis of employers' training needs that are specifically required within Crowborough or could be developed in the town.
A training centre for residential care homes has opened in Crowborough at High Broom providing a focus for training for that sector which attracts people from across the region and also training provision for care homes in the UK and other parts of Europe.
There is evidence that people are prepared to travel for the right job and some businesses experience staff recruitment and retention problems because of competition from elsewhere.
The growing number of home based businesses or individuals working from home would also point to the need to provide locally based training and skills development opportunities.
There is limited evidence of voluntary sector training provision within the town although the Wealden Federation of Voluntary Organisations does hold meetings in the town. There is evidence of a great number of local voluntary organisations in an around the town.
Crowborough has a cluster of alternative health providers operating in the town and it is considered that providing for and encouraging these businesses could assist in making Crowborough more well known in this field. The type of support should include specialist training and skills development as well as promotion to other businesses to encourage symbiosis.
Retail and Town Centre Services
The town centre services and facilities appear to have maintained their position over the last few years. There are few vacancies or empty premises at any one time and the arrival of further supermarkets could bring new opportunities for the existing town centre. There are currently 104 shops and service facilities in Crowborough town centre and a further 23 in Jarvis Brook that is the main secondary centre within Crowborough.
The town centre is well defined but is off the main routes through the town and is at a disadvantage in attracting passing trade. Some of the buildings, because of their age, have poor access that is a current constraint because of modern retail needs. There have been significant losses in recent years of butchers, fishmongers and fresh food outlets, a role that has been taken over by the supermarkets.
The town centre is approaching a time of great change with the development of new supermarket premises on the edge of the town centre. There are some key issues concerning the extent or otherwise of pedestrianisation proposals. There are obviously issues to be faced by some traders in the near future relating to increased competition from the supermarkets but for others the additional footfall through the town centre could well be of benefit. The period of redevelopment and therefore upheaval within the town centre could well pose real issues to existing businesses. The principle issues for the future are about signposting; the promotion of the town centre facilities and services; and the issue of car parking charges that is being discussed within the local councils. Existing traders and services will need to pay particular attention to promotion, customer service and identification and provision of niche markets in order to overcome the advantages that the supermarkets might have in this respect and in order to increase the number of customers.
The town has a farmers' market once a month that needs to find an alternative but easily accessible centrally located site, which also has implications for the viability of the market because of the increased costs that this might impose.
Commercial and Industrial Property
Crowborough has a range of industrial estate and town centre type business premises. In the town centre business premises are either purpose built or are refurbishment of older buildings of various sorts. There are few available sites within the town due to physical and environmental constraints. Current land allocations are generally unchanged from 1999 with few sites having been brought forward for development. Nevertheless two storey premises have been developed in Farningham Road. The Wealden Local Plan Review First Deposit Draft produced in January 2003, included no significant additional sites allocated in Crowborough, mainly due to environmental and access difficulties. '…No new locations are proposed, and whilst there has been some development at Farningham Road, other allocations have not been taken up…' There is a strong feeling from within Crowborough that existing businesses and particularly HQ buildings and long standing businesses must be encouraged and provided for so that they do not relocate from Crowborough with the subsequent significant impact on local employment.
Existing industrial areas include: -
· Millbrook Business Area – on the south east edge of the town, close to the railway station
· The Wealden Industrial Estate – relatively modern and close to the mainline railway station at Jarvis Brook. There is poor access from the main roads through Crowborough and to the A23 and M25. Demand as a result has been slow in recent years. This is a split industrial estate as the railway line runs through it with access to the smaller area being through Western Road; this smaller area is owned by Network Rail
· Park Road Industrial Estate has extremely poor access and most of the units are in poor condition. Adjacent to Park Road is a derelict site known as Crowborough Depot and believed to be owned by East Sussex County Council.
· The Beeches Road Industrial area, known as Connor's Yard is located in a residential area of town.
Local knowledge has identified at least 3 companies that were looking to relocate away from Crowborough in 2004. There have been some discussions about the provision of starter units in Crowborough and certainly in terms of succession planning for small businesses / home-based businesses there appears that there would be a demand for such facilities.
There is an existing issue about the lack of good quality office space in the town centre which is not easy to solve.
In a 2002 Business Opinion survey there were 39 factors listed as inhibiting new businesses in the town. These included: -
· Not enough affordable office accommodation
· Lack of industrial area / units
· High Rents
· Business Rate
Tourism and Visitor Services
Although Crowborough is located in the centre of the High Weald, an Area of Outstanding Natural Beauty, which includes Ashdown Forest on Crowborough's doorstep, the current level of tourism is very low. There is now no hotel within Crowborough; there are 7 B&B providers and Goldsmith's Caravan and Camp Site. The latter is an excellent provision and its 90 pitches are booked well in advance. There is currently no way to monitor day visitors.
Crowborough is well known for its association with Sir Arthur Conan Doyle, who was resident for 22 years, Richard Jefferies, Peter Pears and Tom Driberg. It is the Conan Doyle connection that has the most potential in terms of tourism visits. Conan Doyle 'trails' have been held in the past but lack of funding and promotion led to their demise. These would be resurrected.
The Beacon and Boars Head Golf Clubs, the army training camp and other recreational activities in the town attract visitors. Currently again the potential is not developed.
The improvement to the railway service to London could attract further visitors to the area and could be encouraged to visit Crowborough.
The greatest current potential is to build on existing attractions such as the camping site and the development of the Conan Doyle experience.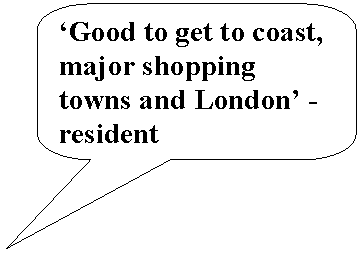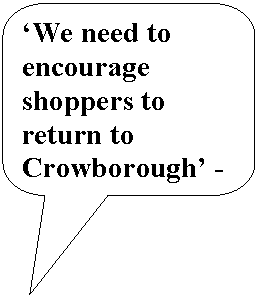 up

© The Crowborough Partnership