up
Economy: Key Issues
Business Support and Development
Need to identify issues faced by Crowborough Businesses about premises, access to services, training
Crowborough needs to encourage and retain local businesses and therefore needs to have the sites, premises and the local support services
The promotion of local businesses and local purchasing could assist the development of businesses, promote a culture of mutual respect and support and result in more disposable spend being retained in the town
Crowborough needs a range of industrial units including incubator units so that Crowborough businesses can continue to grow and aren't lost to the town.
There are signs of recruitment and staff retention issues because of competition from elsewhere that need to be addressed
The training needs of Crowborough businesses need to be identified and addressed as part of an overall strategy of support
The Crowborough Business Association, that mainly serves retailers, is declining in numbers. Is there a need for a revitalised Business Association or equivalent in the town
Although the Business Group of The Crowborough Partnership has been actively supporting local businesses in recent years, it requires funding and additional resources to exploit and achieve the significant potential that exists in Crowborough and its catchment area
There is a relatively high percentage of self employed within the town and the immediate surrounding area – do these businesses need locally based support?
Crowborough has a recognised cluster of alternative health providers and some facilities that are regionally renown (The Birthing Centre, the Horder Centre for Arthritis). The town would like to encourage and promote this aspect of its local economy and facilities.
The development and further growth of home-based businesses in the town needs to be encouraged so that Crowborough is known as a town that nurtures and supports growing enterprises.
Town Centre
Town Centre redevelopment provides opportunities but also threats to existing businesses. The development needs to be undertaken in a sensitive way both environmentally and in terms of the future sustainability of the town centre – need for a town centre manager at least during the time of great change and development to look after everyone's interests and to promote the town to residents and visitors alike.
The redevelopment of some sites in the town centre potentially presents real issues for existing businesses and residents alike. The process needs to be carefully managed to ensure minimum disruption and additional support needs to be provided to help maintain existing trade and footfall within the town centre
The Farmers Market needs to be encouraged and must remain in the town centre.
Infrastructure
The Trading Estates generally have very poor local access that impact on the residential areas around. Narrow pavements and poor parking exacerbate the problem
Future land allocations for business development need to have good access to and from the A26 and sites have previously been
There are shortages in childcare provision and suitable premises in the town – mainly for day care that enables parents to work flexibly.
The Vocational Training Centre to be opened in Uckfield in September will also serve the needs of Crowborough and its surrounding communities. Does the town need to ensure that access to the facility are planned for and are adequate?
The height of the Jarvis Brook railway bridge remains a very real threat as it inhibits inward investment, causes congestion in the immediate vicinity in residential roads which in turn compromises safety of pedestrians
Tourism
Crowborough is in an area that has a high number of visitors and tourists but it is not able to take advantage of that currently as it has no tourism focus and few facilities apart from the Caravan site. There is potential with the Conan Doyle connection and its position close to Ashdown Forest.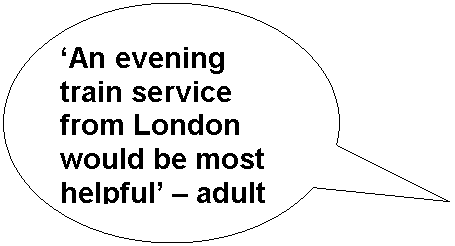 © The Crowborough Partnership